After an intensive time and lot's of meetings and discussions, now the new Magento extension BESUGRE Recommendation is launched and generates personalized product recommendations immediately for web shops of every size. Now you can offer product recommendations like "user who bought this product also bought" on different pages of your web shop.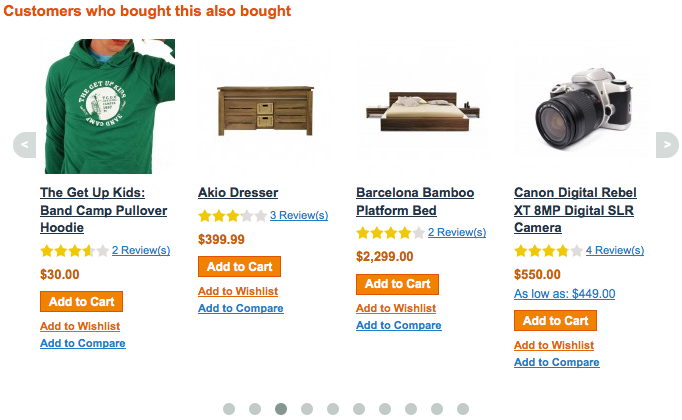 The product recommendations are based on the user behavior which is compared with other visitors of your shop. In addition you can configure several filters in order to optimize the recommendation results. This allows e.g. the implementation of upselling and cross selling mechanisms to offer more expensive products or products with a better margin than the chosen one.
The usage of historical data directly out of your Magento backend guarantees the generation of personalized recommendations right from the start. BESUGRE Recommendation is easy to install and ready-to-use within a few hours. Also smaller web shops with few customers and/or products can benefit from personalized product recommendations.
For more information please have a look at our product tour.
We've put lot's of work into a user-friendly usability concept to facilitate the usage of the tool. The software is not realized in the typical Magento admin style and the design is optimized to support the creation of standard configurations with a few clicks. The independent and user friendly UI supports this concept. As usual the extension is integrated in the Magento admin area.
To guarantee the overview of your product recommendations a Customer Intelligence Module with root cause analyses and recommended actions is provided. This makes personal recommendations easily understandable to Product Managers and Editors and gives them the possibility to optimize their recommendations whenever they want.
And the best: BESUGRE Recomendation is available for a single price and therefore you have no additional monthly costs. You pay neither for the configuration of your recommendations, which you can handle by yourself with our intuitive software, nor for service or maintenance. All data is saved completely on your server systems so you have everything in your own hands.
Please find here all information to our new product BESUGRE Recommendation.
If you have any questions please don't hesitate to contact us anytime by visiting our contact form.
al