What's Recolize?
Recolize is a Software-as-a-Service generating personalized product recommendations exclusively for your shop. With our recommendation engine you profit by our user-oriented usability concept, actual Reports and a Customer Intelligence Module.
System independent: works for all blogs, CMS and shop systems (e.g. WordPress, Magento, Drupal etc.)
Blindingly easy usability without any technical knowledge because of URL-Based Configuration
Quick installation: your recommendations are ready within 10 minutes after registration
Actual Reports with root cause analyses and recommended actions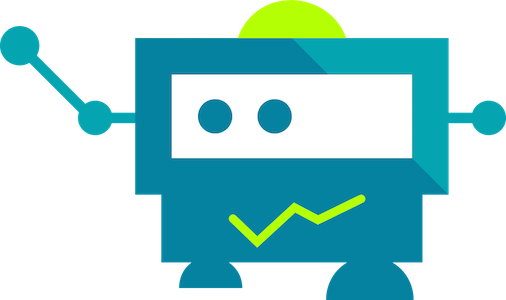 Base Features
Extensive Recommendation Types:
User-to-user ("Customers who bought this also bought")
Item-to-item ("Other products like this")
Top items ("Products which generated to most sales")
Display Types for your Website
Your recommendations will be displayed as responsive carousel
Fitting for every layout (1-, 2-, 3-column layouts etc.)
Responsive carousels applicable for all mobile devices and easily usable with swipe gestures
Flexible Configuration of your Recommendations with Extensive Filter Configuration Options
Use all the advantages of the direct integration of Recolize into your online shop and benefit from the more advanced configuration options compared to existing models
Configure your Recommendations for:
Specifically your customers and audience
Special campaigns targeted to traffic sources or different marketing channels
Selected products, categories or special URLs
Improve your Filters
Refinement of your filters by combining filters with different relations (e.g. price larger than 10.00 and category is shoes)
"AND" and "OR" relations of combined filters
Flexible Definition of the Application Areas of your Recommendations Based on URLs
Product or category based recommendations
Specific recommendations in the cart or checkout
Special recommendations on your home page
Campaign based recommendations e.g. for Google Analytics or AdWords
Shop based recommendations (e.g. for different store views)
Extensive Filter Criteria
Context filter user/customer/target audience
Context filter campaign/traffic source/requesting channel
Context filter currently chosen product
Context filter currently chosen category
Context filter current URL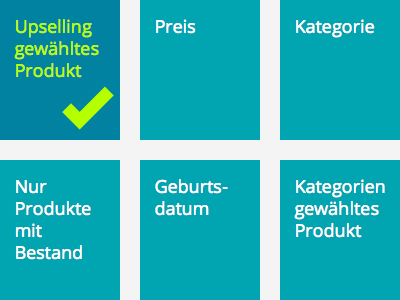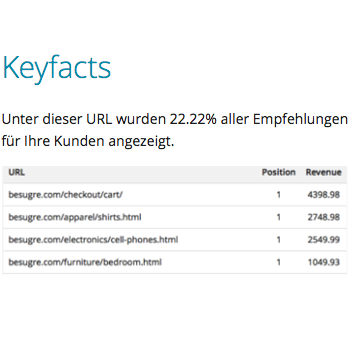 Customer Intelligence with live reports and recommended actions
Benefit from our cutting-edge Customer Intelligence Module which at any time demonstrates the payoff of your personalized recommendations
Our Customer Intelligence Module Offers you:
A quick overview of your recommendations with the help of key facts – in real-time
Clearly presented live listings with top and flop recommendations evaluated on the basis of their revenue shares
Intelligent alerts which show important positive and negative changes just in time
Detailed Analysis for Every URL
Regular messages with recommended actions for optimizing your recommendations
Key facts which sum up the success of your recommendations
Recommended actions for the optimization and improvement of the conversion rate
Forecast how the realization of the recommended actions could positively affect your recommendations
Live Reporting and Analysis for a Selectable Time Frame
Overview of the Top 10 and Flop 10 recommendations in realtime
Analysis of the revenue share of your recommendations compared to the total revenue
Analysis of the revenue share of your recommendations compared to your top recommendations
Url-Based detail reporting
Revenue share of this URL
Top 10 products which generate the most revenue
Optimize your conversion rate based on a list of recommended actions and directly monitor the impacts of your variations to the success of your recommendations.
High Flexibility to Optimize your Conversion
Profit by the various applications of Recolize and configure your recommendations with different goals.
Increase your Revenue by:
Recommendations of products which fit to the currently selected product for generating additional sales
Offering upselling products with higher prices compared to the selected product
Recommendations based on your customer data for proposing products which were already bought by other customers
Test which configuration works best for your shop and win by combining different kinds of recommendations.

URL-Based Configuration
Benefit from our unique solution which enables the configuration of recommendations based on your existing URLs.
The usage of URLs provides you with:
Rapid creation of personalized recommendations for arbitrary pages in your online shop
Easy assignment of the recommendations to your marketing campaigns (e.g. for Google AdWords)
Transparent analysis based on your URLs and therefore a fast optimization of the recommendations via an intuitive user interface
Instantly start with the configuration of your recommendations without any initial hurdles.
Features