We are very happy to announce our brand new feature: Email Recommendations.
Now you have the possibility to offer personalized recommendations in all kinds of emails: newsletters, transactional emails and campaign mailings.
What are Email Recommendations?
Email Recommendations are automated product recommendations in emails. Also you can use all Recolize configuration features which you are already using for your shop, blog or CMS for recommendation widgets in emails. Furthermore you can display and also use all filter features and data pools in emails:
Personalized recommendations in emails
Bestsellers
Static recommendations
Last viewed products for e.g. cart abandonment emails
How Does it Look Like?
With Recolize you always have two ways for integrating your recommendations and it's the same with Email Recommendations:
Add your Email Recommendations with our default design. Our solution is ready-to-use out-of-the-box, so really plug & play.
If you need e.g. design changes or you only want to display e.g. 2 instead of 4 items in your emails, then just adapt the HTML and CSS of the Email Recommendations. You are free to style your Email Recommendations how you want them to look like. Momentarily this is done by us as service for you. Of course completely for free.
In the following you can see the default design of an Email Recommendations widget: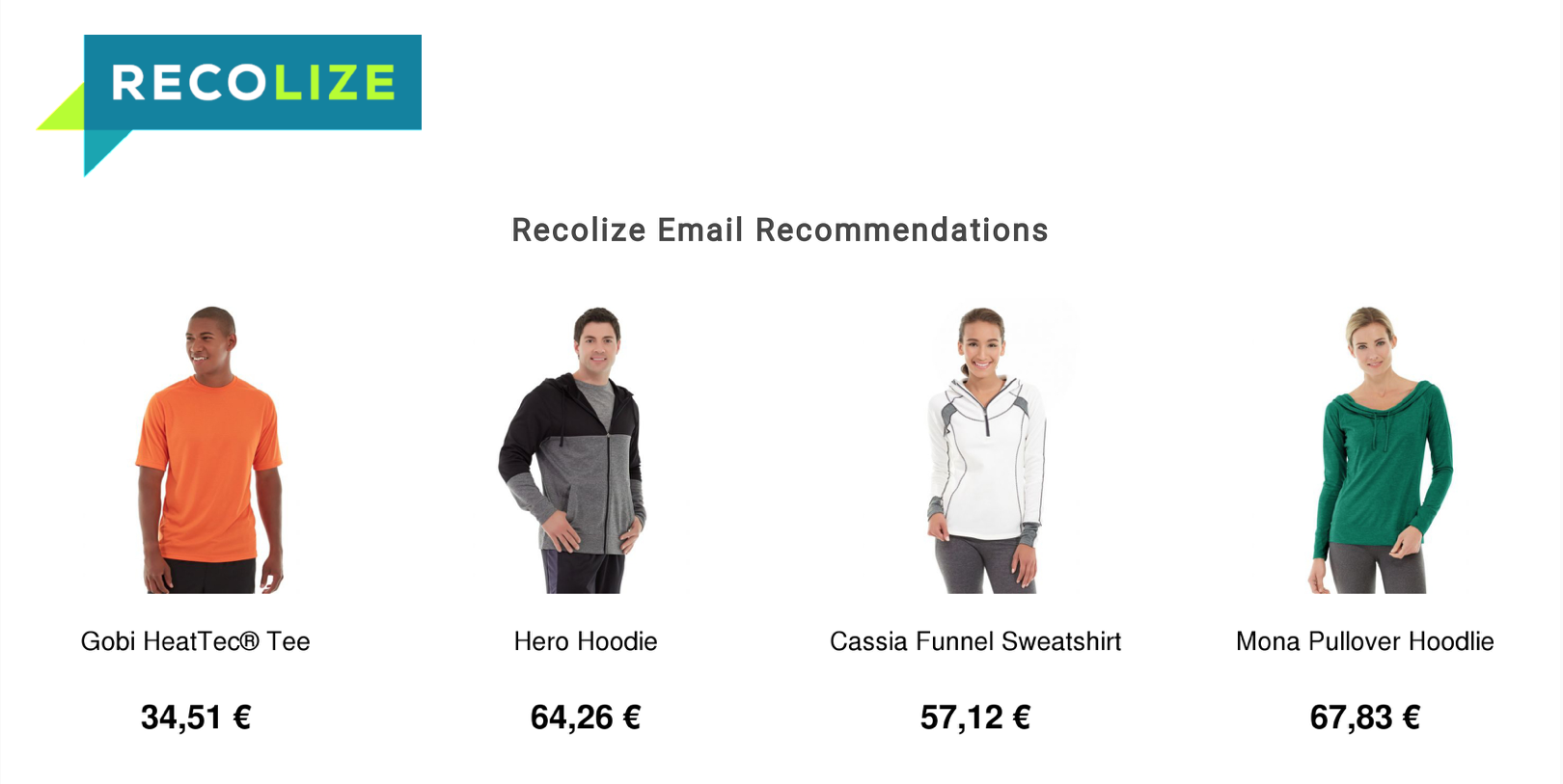 Why Should I Offer Email Recommendations?
You are probably generating lots of traffic to visit your website or online shop with Google AdWords or other performance marketing channels. Recolize is then already optimizing the conversion of this traffic onsite. But what's about your email marketing channels?
Of course you are also using email marketing channels for sending newsletters or automated email campaigns. Mostly these channels are not really personalized. With our Email Recommendations you now have the possibility to easily add all kinds of personalized recommendations to your emails. Completely automated!
You can add as many recommendation widgets as you want to and configure them exactly like your web recommendations. Because of the easiness you should really think about starting over with Email Recommendations right now.
How does it work?
Very simple: you integrate a small HTML snippet into your mail template. No matter which tool you are using:
MailChimp
CleverReach
mission<one>
Newsletter2Go
No matter: Recolize Email Recommendations work with every mailing tool and every kind of email and template. And also with every email client.
How can I start?
Contact us under here. We'll activate the feature for you and send the necessary HTML snippet to you or integrate it for you into your mail templates. This service of course is completely free for you.
We can also integrate it into your mailing tool for you. Also completely for free.
What's the Pricing?
It's as easy as usual at Recolize: you don't have to buy any additional packages, you don't have any obligations. Everyone using Recolize can also use Email Recommendations. You pay the same click price as you are already paying for your web recommendations.
A New World Full of Possibilities
Email Recommendations offer various new possibilities to personalize the communication with your customers. Extend your personalization from your website or online shop to your email marketing channels. The smart thing is, that Recolize Email Recommendations are completely automated, so you can really integrate it into every kind of email. You don't have to think about which products to propose to which target group. Recolize does this automatically for you and you save a lot of effort with every email campaign you are creating.
Examples of emails where personalized recommendations make sense:
Newsletters
Order success emails
Cart abandonment emails
Loyalty status emails (e.g. point balance)
Reactivation emails
Product availability emails
etc.
Also very smart: you can define the same rules in the Recolize Tool you are using for your web recommendations. Just define e.g. a rule for the Google UTM source "email" and you're done: the new recommendation rule is working for the recommendations in your email.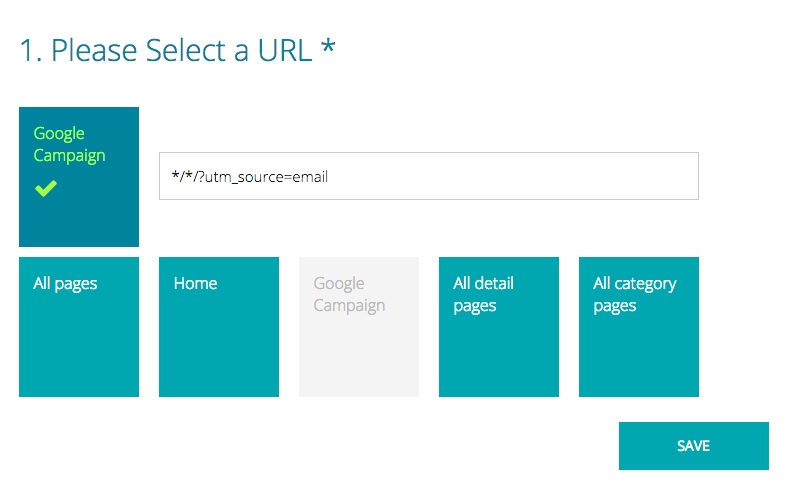 Give Your Personalized Recommendations a Rocket Launch
You can start immediately with Recolize Email Recommendations. Just give us a short note here and you can start in minutes. Start to use them already in your next email campaign and you will be amazed by the great conversion results.
We're really looking forward to see your conversion boost with our new feature.