With our Recolize Recommendation Engine you can integrate personalized recommendations into your shop or website with 2 simple clicks – and use it totally free of charge up to 1.500 clicks each month.
The recommendations generated by Recolize can be directly embedded into your site and shown immediately.
The default algorithm calculates the perfect recommendations for your customers for different page types. Furthermore we offer the possibility to adapt the recommended articles or products according to the needs of the merchant through individual filter rules: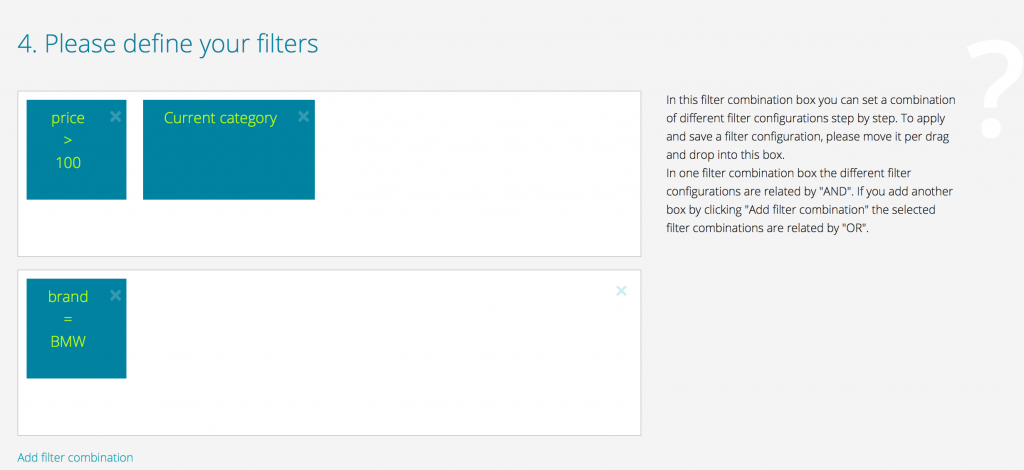 Now let's have a look at three filter samples from the E-Commerce space which are used by our customers:
Immediately deliverable

This example is based on Magento and filters by deliverable products, i.e. products that are currently in stock. This is by far one of the most used filters by our Recolize customers as their customer can purchase the recommended products immediately.
Product recommendations for the current category

This filter setting lends itself to e.g. the category page or the product listings to use the chosen category of the customer also for the generated recommendations.
Of course all these filters can be combined and interleaved with each other – there are no boundaries to your creativity.
In case you need any help with the configuration of the Recolize filter rules, please contact us at service@recolize.com.