The market of buying new traffic gets more expensive every day. Look at the following image which displays the CPC development over the last years.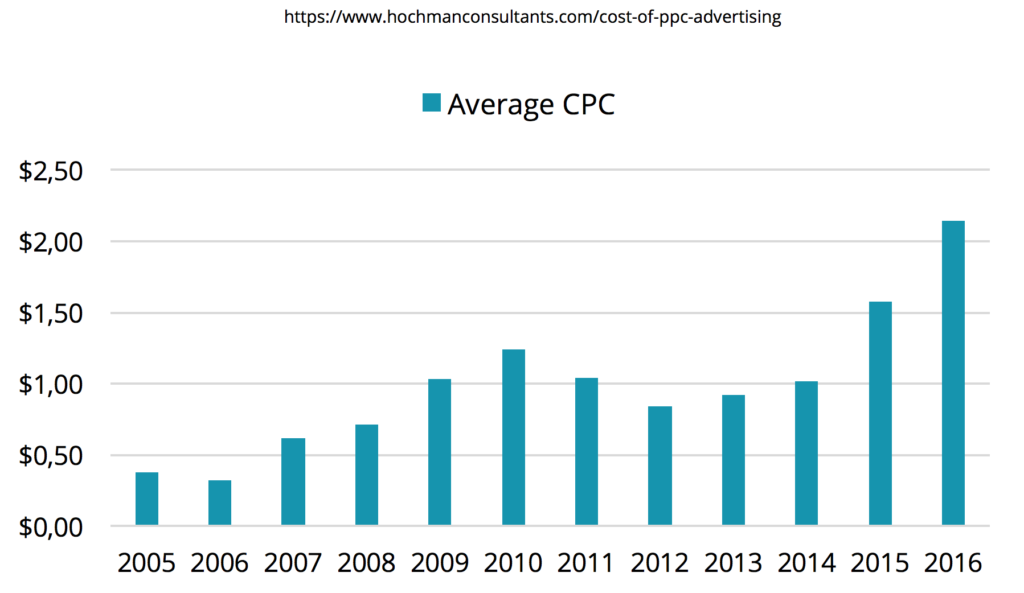 Therefore nowadays website owners can't only concentrate on generating new traffic to their shop, blog or any website. The goal must be to convince visitors to stay as long on the website as possible.
The longer a visitor stays,
the more he will buy.
the longer he will read e.g. news
the more ads he will see.
Whatever your business case is and how you earn your money with your website, one of the main objectives has to be, that the visitors stay as long as possible.
Here are 3 ways to convince visitors to stay on your website.
Way 1: Make Exclusive Offers Everywhere
When a visitor enters your site through paid traffic like Google AdWords or other performance marketing channels, it is very likely that he enters either through a landing page or an article or product page. Both page types are normally quite static. Especially a landing page is optimized for a specific keyword and looks equally for every new visitor.
To loosen up this visiting experience, try to make personal offers to the customer. These offers could be:
Personal coupon codes only valid for the current visitor.
Time limited offers to increase the pressure of converting.
Welcome layers containing an offer after a specific visiting time (e.g. after 2 minutes).
Exit intent layers offering a special discount when the user wants to leave.
Offers based on the visiting time. E.g. offer different offers in the evening time or for special holidays.
For all kinds of offers it is very important, that you try to offer the same offer throughout the whole customer journey. Don't confuse the potential customer by making him calculate through different offers on your site. The best conversion rate will be reached when you sell your single personal offer as attractive and exclusive as possible.
Way 2: Show That You're Alive
Not only update your products, prices or landing pages. Visitors must see on your website, that real human beings are working there.
Offer a great "About us" page and give the visitors the chance to live chat to you if they have any questions. And most importantly: show that you're constantly working on your site with blog posts.
Blog posts are no easy business. It's a huge effort to find topics that help you grow your business and convince new visitors, that you are really existent. But the effort is worth it: don't underestimate the power of great blog articles.
The first real big gain of blog articles is SEO traffic. Google will thank you with better rankings for your worthy content. So it is important, that you don't only blog about sales activities. Also try to blog about off topic things. This makes a blog livelier and more real for your visitors.
Secondly, your paid traffic which did not land on a blog post in the first place, will always look at what you're offering. Furthermore they will check if they can trust you. By adding quality blog posts, these visitor will recognize instantly, that they can trust you and they'll stay longer on your site. And maybe they even read your blog posts.
Way 3: Personalize the Customer Journey
No matter where your visitors are landing first when they visit your website. It is immensely important to address the customers personally. In way 1 you've already learned how to do this with personal offers.
Now let's extend personal offers to personalized content. Not only make exclusive discounts, but try to personalize the whole customer journey throughout your website. You can offer personalized products, personalized articles or personalized news.
Offer the content the visitor is probably interested in. A customer journey in an online shop selling clothes could look like this:
The customer visits an AdWords landing page called "The best shoes" by clicking on a Google ad for your shoes.
Now you already know, that this customer is interested in shoes. That's great and a huge insight already.
Don't only offer shoes on the landing page. Also offer fitting clothes.
Now the customer clicks on a leather shoe in size 10.
After that you know: the customer may like leather and has the shoe size 10.
On the next page, which is the product page of the selected shoe, you can then offer a leather jacket matching the style of the shoe. And of course alternative shoes in size 10.
In this example you can see, that already the first contact of the visitor with your website can contain lots of insights to the potential customer's preferences. Use this knowledge, offer the right content at the right time and the visitors will stay a whole bunch of time longer on your website.
If the visitor is a reapeating visit, then you can even use the knowledge you've gained during his last visit on the shoe landing page. As you maybe already know his shoe size and color preferences, you can already offer the right shoe products completely personalized on the landing page!
Stand Out With a More Personal Website
The internet is huge. And the internet is anonymous. People are browsing hundreds of websites every week.
That's why you have to stand out by being more personal and less anonymous to your visitors. Try to make them believe, that you not only want to sell them anything no matter how, but that you offer a personalized experience, are reachable by chat or phone and that they can talk to real humans. This will make visitors trust you and therefore they will stay much longer on your website. And maybe also revisit it more often!